Regular price
Sale price
$1,561.25
Unit price
per
Sale
Sold out
Ethereal™ Pure-Ag Power Cable by A.L.A Audio
 20A rated mains cable specifically designed to position between mains outlet and amp/s and or power distribution feeding entire system
"I can build / modify this cable or other cables to best suit your requirements and meet your budget, please feel free to contact me to discuss." Aaron.  
Design & material specification -
Each alternating conductor has a total surface area equivalent to 4mm2 compromising of two flat ribbon & two solid round 5N Pure-Silver (Assay Lab Certified) conductors 
The ground conductor is a individually shielded high purity litz wire conductor reducing noise caused from paracitic capacitance and creating an ultra low impedance path to ground effectively shunting noise
Designed and built in Australia,  meticulously constructed by hand from ground up, a process requiring long hours. The best possible materials have been used including lab-grade PTFE Teflon™ chosen due to tighter manufacturing tolerances'; 'the  relationship between the dialectic and power cable performance is critical to achieving the most accurate tonal quality'
A High-speed design approach with advanced shielding was selected due to cables intended position running from AC wall outlet to power distribution or direct to power amplifiers 
Use of Ribbon conductors was chosen  effective in achieving low inductance without creating excessive capacitance largely aiding in speed of transients and attack. EMI is handled with an advanced three stage shielding system comprising of:
Mylar & Copper foil with over 150 individual drain wires 
Tinned copper mesh shielding presicly positioned 10mm away from conductors
'Aero-space 3K conductive carbon that also acts as dampener against vibrations
(Optional DBS Dielectric Bias System, please call to discuss)
A proprietary metal treatment is applied to conductors surface effectively reducing noise by targeting skin frequencies that exceed 100/120 Hz
The most significant improvment in the latest version of this cable was the highly accurate positioning of conductors being critical in achieving desired level of performance along with placing each conductor dead centre within sealed air tubes:
reducing formation of eddy currents
providing increased resonance control
maximising air as a dialectic with reduced contact of conductors with dialectic matter
All offering increased tonal accuracy and reducing colorations
Nano treatment is applied to each point of contact to increase electric conduction area, debase impedance and prevent oxidation
Fitted with FURUTECH FI-50 C13/C14 IEC and matching AU approved 3-Pin Power Connector other options are available
Built to comply with Australian Standards AS/NZS 3112:2000 and AS/NZS 3112:2004 
* 30 day take home demo is available
 * Cable is made to order and may require approximately 5 days to build and test
Share
View full details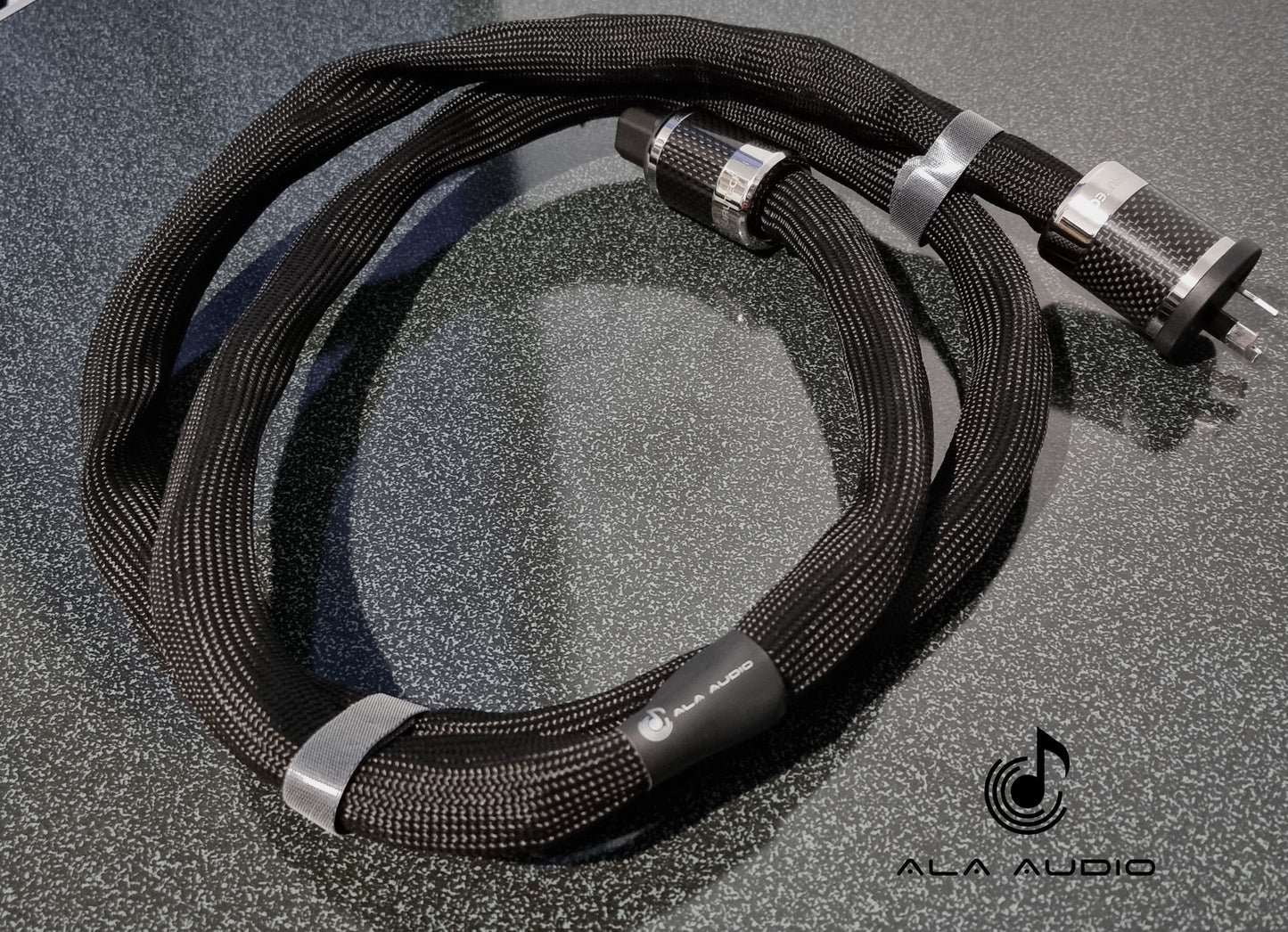 Fast & Free Shipping

Free Australia Post Shipping. All products ship from our Australia Warehouse

Australian Warranty

Purchase with confidence, this product is covered by a full Australian Warranty

Experienced Product Support

We have the solution! "as audiophiles who love playing with Hi-Fi gear as much as you do"

Showroom Demonstrations

Contact us to arrange a time to listen to your favourite products in our dedicated demonstration rooms.
I reached out to Aaron initially for a budget 'audiophile' power cord. I was impressed with the quality over the stock power cord on my AVR and my journey into discovering the impact of 'power' began. I subsequently went back to Aaron looking for a new power-board. Whilst collecting my new power-board, the glitter of the shiny NFC Furutech connectors caught my eye. I think Aaron had ingeniously placed the power cord in the background, ready for a sucker to pounce. 'Would you like to take it home and trial it?' Hmm... how much? Hmm.. no thanks.. Then I thought, what the heck.. How much better could this cord be anyway, my system sounds amazing as it is! I'll give it a go just to prove my point!
What a disaster of a snap judgement that turned out to be (...for my back pocket)! It took all of 10-15 seconds (maybe even 5) to realise there was no going back, Aaron was not getting this cord back. He offered to change the very pricey NFC connectors for a cheaper range - I said no way! The improvement in dynamics, clarity and power were more profound now, then when I initially upgraded my sub $1k AVR with a $5k+ AVR. I decided to 'temporarily' put the cheaper PC that was already a significant upgrade to the stock PC back 'in' before burning a hole in my wallet. I could not believe the difference. It was muddy, it was restricted, it sounded horrible.
Once you hear the difference, there is no going back.
I was not expecting this, having been doubtful (to say the least) about the benefit of a short addition to the mains connection. However, I couldn't believe my ears! Its not a thin veil that's been lifted, but a thick fog that I didn't even know was there! The improvement is mind boggling, with far greater clarity, imaging is superb, both high and low frequencies are extended and with tremendous transient attack. It's as if the glass in a window has not simply been cleaned - it has been removed! Aaron suggested a free trial, he not getting it back - no way, even though I've had to stretch my budget. This Ethereal cable is worth every cent! Thank you Aaron!