Regular price
Sale price
$1,269.54
Unit price
per
Sale
Sold out
PS10 THOR SMART POWER STATION
ULTIMATE POWER CONDITIONER
Please contact us regarding availability as supply is limited 
The PS10 protects your system against both high and low voltage damage and comes bundled with Thor's state-of-the-art A12 triple-isolated filter with Dynamic Active Tracking which adds up to double protection. 
The PS10 can achieve a dramatic increase in overall sound and picture quality of any AV system
When the A12 is attached to the Smart Power Station it delivers DOUBLE the protection and DOUBLE the filtration, incorporating their Dynamic Active Tracking Technology.
In addition to this there are 3 isolated banks on the Smart Board ensuring there is no "cross talk" or interference between components connected after the Smart Station.
Add the 5 separate earth lines which is a hum/loop reducing feature and performance enhancement is almost a given.
This configuration of the Thor PS10 power station can be argued as being the best combination available for providing pure and precise 240 (or 220) volts to your valuable electrical equipment.
Equipment that was designed to run on 240 (or 220) volt power ensuring you get maximum performance and enjoyment form many years.
When it comes to minimising risk, Thor make no wild or glossy promises.
Their products do what they say they do - it is that simple!
DOUBLE FILTRATION SOLUTION
6080 JOULES - MAXIMUM PROTECTION
1 NANO SECOND - FASTEST REACTING
$500K CONNECTED EQUIPMENT WARRANTY
PURE SINE WAVE OUTPUT
UNDER & OVER VOLTAGE STABILIZATION
8 PROTECTED OUTLETS
PAY TV PROTECTION
1.8M CABLE LENGTH
3 ISOLATED BANKS
DATA/VOICE
FIRE RETARDENT
AERIAL PROTECTION
2 LARGE PLUG ADAPTORS
6 YEAR REPLACEMENT WARRANTY
Pure pristine power 24/7.
For ultimate in power conditioning with under/over voltage stabilization that enhances performance without changing the THD so Audiophiles love it! It can deliver 240V output or (user selectable) option 220V to deliver the power your system was designed for.
The Thor SmartBrain not only protects from surges, it also filters and cleans electrical frequency noise to give you unbeatable sound and video quality.
Enjoy a truer AV experience with better picture quality and purer sound.
Can also improve computer gaming speeds and fix internet dropouts.
PROTECTS
TOP END HI FI & AUDIO
ALL SCREEN TECHNOLOGY (TV/PROJECTORS)
COMPUTER & AV SERVERS
ANY DEVICE THAT PERFORMS BETTER WITH PURE POWER 24/7
TECHNICAL SMARTS
Product Dimensions: 436mm (W) x 195mm (H) x 380mm (D)
Supply Voltage: 240/Vac 50Hz
Maximum Current Rating: 10amps/2400 W (Va)
Wave Form: Pure Sine Wave
Operating Voltage: 180v - 260v
Incoming Voltage out of designed range (i.e. 180v - 260v): if input was 270v then output would be approx 250v to255v
Incoming Voltage out of designed range (i.e. 180v - 260v): if input voltage was 140v then output would be approx230v - 235v
Safety Approval No: RCM 5287
Model No: PS10
Double Filtration and Protection Management: A12 Smart Board included
INSIDE THE BRAIN
SmartBrain has a premium filter technology called Dynamic Active Tracking. This unique filter has the best chance of "cleaning" electrical noise because it shields around 40% more frequencies when compared to other filters.
It is an Active filter and can "clean" unwanted frequencies on both the upward curve and the downward curve of a sine wave (power).
Most other  filters only work at the crest of the wave and therefore miss a huge section of unwanted frequencies that can generate noise on sensitive electronic devices.
Share
View full details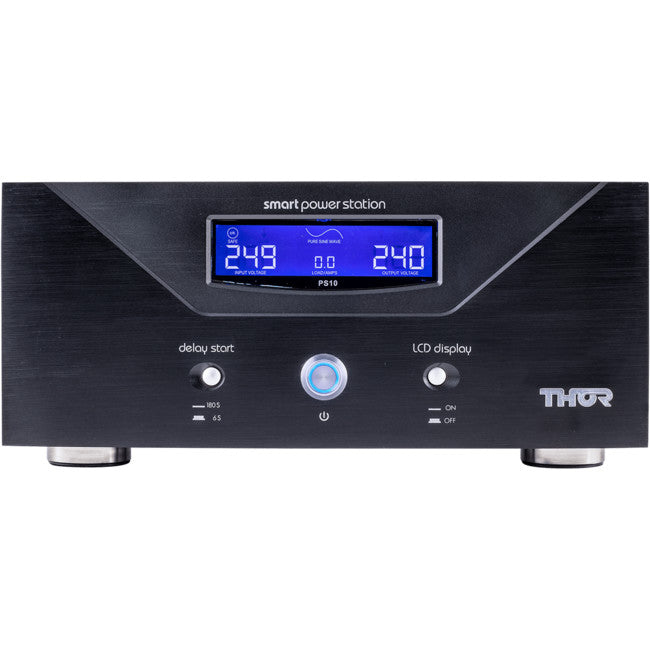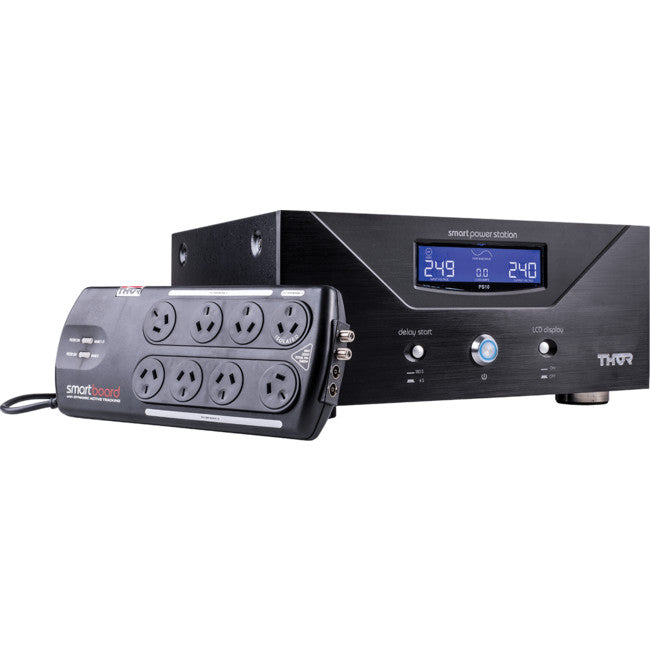 Fast & Free Shipping

Free Australia Post Shipping. All products ship from our Australia Warehouse

Australian Warranty

Purchase with confidence, this product is covered by a full Australian Warranty

Experienced Product Support

We have the solution! "as audiophiles who love playing with Hi-Fi gear as much as you do"

Showroom Demonstrations

Contact us to arrange a time to listen to your favourite products in our dedicated demonstration rooms.