Regular price
Sale price
$1,419.71
Unit price
per
Sale
Sold out
Note: QA390 is a pre-order unit, accepts the reservation now, the package is expected to be delivered in late October. Thank you!.

Features:
1. Powered by a large-capacity battery, the internal current and voltage are designed according to the standards of high-end desktops. It is a truly removable decoding amp machine.
2. Dual 1000000uF low internal resistance super capacitor for digital and analog partial isolation power supply, similar to the dual-booster design of desktop machines.
3. Balanced amp can output more than 20V voltage, easily push high-impedance headphones.
4. The final stage power tube current output capability is 2700mA, which is very good for driving low resistance and low sensitivity headphones.
5. DAC chip adopts AK4497EQ*2 and supports ALL To DSD.
6. Two femtosecond crystal designs, high-speed precision-controlled CPLD clock processing, and global clock unified and synchronous operation mode.
7. Built-in single-chip single-threaded SD card pure tone player.
8.HWA (LHDC) HD Bluetooth input for easy connection to mobile phones.
9. Two-way USB interface, one for the phone or tablet (no camera kit required), and the other for an authorized Italian interface.
10. Four 3300mAH Panasonic (formerly Sanyo) 18650 batteries provide a total battery capacity of 31200mAH.
11. More than 30 ultra-low noise power chips provide clean power for each circuit device.
12. Headphone interface is complete, single-ended interface: 3.5, 6.35; balanced interface: 2.5, 3.5, 4.4, XLR.
Specifications:
Internal playback storage media: use an external SD card or TF card plus card sleeve, FAT32 format, currently supports a maximum capacity of 512GB
Internal playback support code rate: 16-32Bit, 44.1KHZ-352.8KHZ, DSD64-DSD128
USB interface - USB B port: use authorized Italian interface Combo384, and optimize hardware design, support 32Bit/384KHz4 PCM and DSD256
USB interface -- Micro port: use SA9227 interface, Apple phone and tablet do not need camera kit, support 32Bit/384 KHz PCM and DSD128
Bluetooth Receive: Support Bluetooth 5.0, support Huawei HD Bluetooth HWA (LHDC) and AAC encoding.
Coaxial input: 75Ω matched impedance, support 24Bit/192KHz and DSD64 (DoP)
Fiber input: support 24Bit/192KHz and DSD64 (DoP)
Coaxial output: 0.5Vp-p75Ω, support 24Bit/192KHz and DSD64 (DoP)
Fiber output: support 24Bit/192KHz and DSD64 (DoP)
Analog output parameters:
Frequency response: 20-20KHz
Signal to noise ratio: 122dB
Dynamic range: 121dB
Resolution: 120dB
Distortion: 0.0005%

Output level:
RCA (L&R) 2.5V (closed pre-level)
XLR (L&R) 5.0V (closed pre-level)
SE (unbalanced) maximum 10.5Vms (high amp voltage, ultra high gain, 600Ω load)
BAl (balance) up to 21Vms (high amp voltage: ultra high gain, 600Ω load)

Amp output impedance: unbalanced: 0.13Ω; balance: 0.2Ω
Headphone matching impedance: 8Ω-600Ω
Decoding chip: Ak4497EQ*2 LPF: AD797x2
Volume control (including preamp volume control): PGA2311UA analog program control volume
Reference clock jitter: 0.088 picoseconds (88 femtoseconds)
Charging interface: Available Type-C port, DC port available, fast charging, QC compatible
External power supply: DC5.5*2.1 port, can also be charged (panel switch selection)
Life time: 8 to 10 hours
Charging time: Type-C general charge: 8 to 9 hours, Type-C fast charge / DC port: 4 to 5 hours
Host & Remote Control Material: All Aluminum CNC Integrated Finishing
Product weight: 3.0kg in full package, net weight 1.8kg
Host size: 20cm*18cm*4.45cm
Packing size: 33cmx27cmx9cm

Single-ended headphone port rated output power:
32Ω, 1000mW/ch amp high voltage, high gain
300Ω, 360mw/ch amp high voltage, super high gain
600Ω, 180mW/ch amp high voltage, super high gain
 
Balance the headphone port rated output power:
32Ω, 1300mW/ch amp voltage,high gain in
300Ω, 1200mW/ch amp high voltage, super high gain
600Ω, 720mW/ch amp high voltage, super high gain
Share
View full details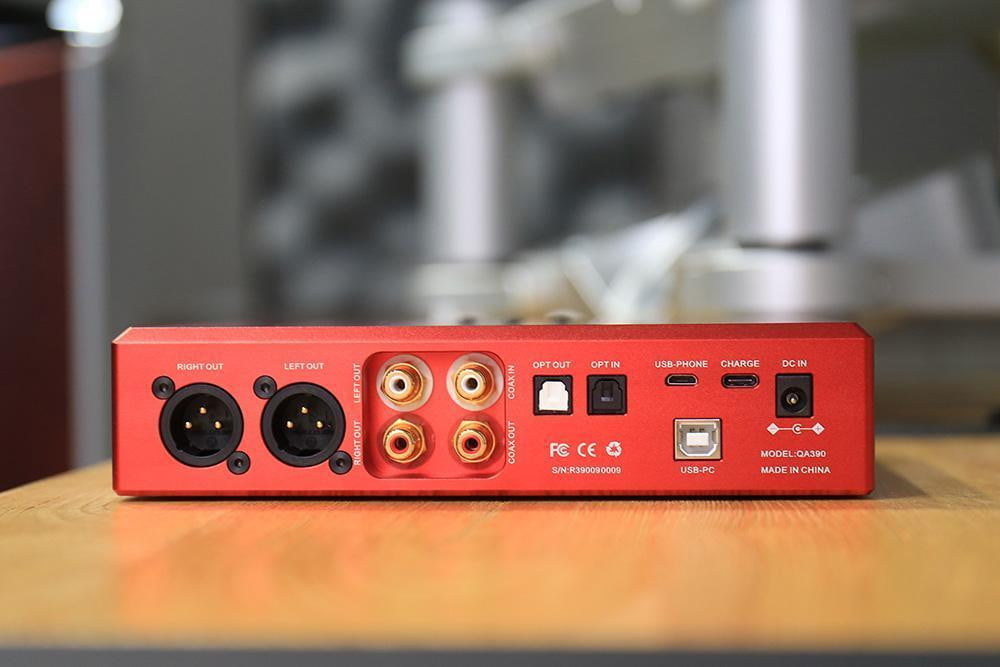 Fast & Free Shipping

Free Australia Post Shipping. All products ship from our Australia Warehouse

Australian Warranty

Purchase with confidence, this product is covered by a full Australian Warranty

Experienced Product Support

We have the solution! "as audiophiles who love playing with Hi-Fi gear as much as you do"

Showroom Demonstrations

Contact us to arrange a time to listen to your favourite products in our dedicated demonstration rooms.