Regular price
Sale price
$2,605.89
Unit price
per
Sale
Sold out
SHUNYATA VENOM AU-8 POWER DISTRIBUTOR
The first Shunyata Research Power distributor with Australian/New Zealand outlets! Available now.
Audiophile Store, Australia Stock, Authorised Resellers, Local Warranty, Full Support
The VENOM AU8 is a high performance power distributor designed specifically for music, film and recording enthusiasts located in Australia and the South Pacific. High-end home entertainment systems can be very complex and quite costly yet the performance potential of the entire system can be dramatically affected by the choice of power delivery products, including the power distributor. The AU8 is designed to isolate noise, improve performance, and protect the system while providing a high cost-to-performance ratio.
Sound and recording professionals from around the world agree, Shunyata Research power-system's are the finest in their product category. Renowned for performance and reliability, sound and recording professionals the world over use Shunyata Research power systems and distribution products.
FEATURES
FLOOR MOUNT – TOP ACCESS
The AU8 Series has been designed with home theater systems in mind. They are ideal for installation behind a cabinet or rack system. All the outlets face upward allowing ease of access while the shallow depth allows the AU8 to be located almost anywhere, even behind a cabinet or close to a wall.
HIGH CURRENT CAPABILITY
The AU8 power distributors are designed using DTCD® analysis and carries a 10-Amp continuous rating. This virtually unlimited power delivery capability allows it to power entire systems including high power amplifiers. The non current-limiting electromagnetic breakers combined with massive 6 mm2 gauge internal wiring maximizes instantaneous current delivery and dramatically improves dynamic contrasts and bass impact.
DTCD® DESIGN
‌DTCD® Analysis is a technique that measures instantaneous current through low impedance electrical conductors and contacts. We use it to optimize the design, specification and construction of parts and materials to ensure maximum current delivery performance in our power distributors and power cables.
‌CCI™ (‌COMPONENT-TO-COMPONENT ISOLATION)
‌CCI™ v3 modules isolate power line noise from one component to another component. These new ‌CCI™ modules were originally developed in our military, scientific and medical imaging research programs. They are currently being used to great effect in Electrophysiology heart surgery. As used in the AU8, noise may be reduced more than -24dB from 100 KHz to 10 MHz!
ZPP-DS BUSS SYSTEM
ZPP-DS (Zero-Point Power Distribution System) is Shunyata Research's exclusive power buss made entirely of solid OFE Alloy 101 copper. The ZPP-DS unifies the internal wiring, outlet contacts and power distribution buss into a single zero-point of electrical contact. This improves contact integrity and DTCD® performance by eliminating many of the terminal connections and the daisy-chained wiring found in other products.
SUPERIOR A.C. OUTLET
From the outside, all A.C. outlets look similar other than the color, but once you look inside there are dramatic differences that are easy to define. A common outlet that is typical of what is used in new home construction and some high-end power conditioners has a small body decreasing air flow and the ground strap is made from inferior tin and nickel instead a copper alloy.
The internal current carrying contacts of the AU8 are much larger than in common outlets and are made from a high quality brass and copper alloys. The common outlet makes contact on a thin knifes edge. This can arc and develop carbon deposits over time, decreasing electrical integrity. The AU8 outlet has a triple-wipe contact system that has broad contact areas that grab the plug from three different sides.
HIGH CURRENT A.C. INLET
Connector inlets are very important to performance and specifically DTCD®. Most power conditioners use the the ubiquitous and inferior IEC C15 inlet.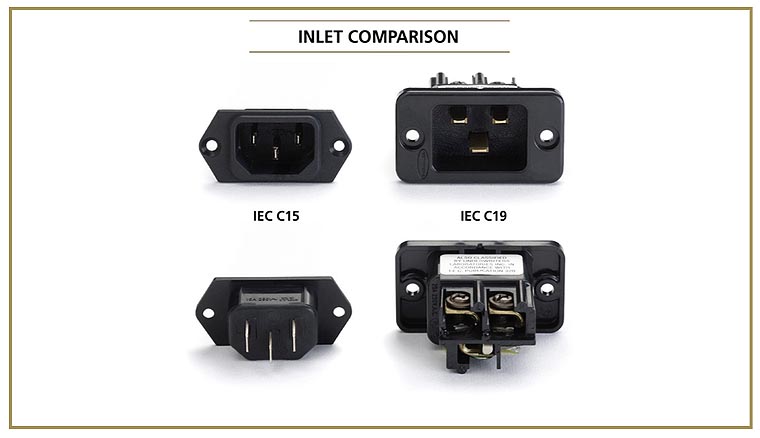 The VENOM AU8 comes equipped with the IEC C19 which has larger electrical contacts and was designed specifically for high capacity industrial use and to carries a 16-Amp continuous service rating.
TRIDENT MODULE
The TRIDENT Module provides a massive 40,000 amps of surge protection, transient protection and noise reduction in a single compact module. The noise reduction circuitry is similar in design to the MPDA™ and CCI™ noise reduction filters. It also includes a fault detection circuitry and and LED status indicator that monitors its operation. The module was designed to be field replaceable with only two terminal connections.
‌ArNi® CONDUCTORS
The VENOM AU8 is wired with proprietary ‌ArNi® conductors developed by Shunyata Research. These conductors are "hollow tube" VTX™ designs that are made from pure OFE C0100 copper and then treated with the KPIP™ Processor. Shunyata Research uses only the highest purity of copper available for the production of its wire products. OFE Alloy 101 or C10100 is the highest grade of copper with a minimum 99.99% purity and a conductivity rating of 101% IACS.
VIBRATION CONTROL
Mechanical vibration can be very destructive to system performance. The AU8 was designed from its inception to include advanced forms of vibration control that improve the recovery of subtle musical detail and nuance. All chassis panels and internal structure are treated with vibration dampening panels. Each outlet is isolated from the chassis with a vibration dampening gasket that reduces vibration conducted through the AC cables. All internal modules, filters and electronics are encapsulated in a vibration absorbent compound.
‌KPIP™ "BLACKBIRD" PROCESSOR
Each AU8 is treated with Shunyata Research's proprietary ‌KPIP™ Processor. The '‌Kinetic Phase Inversion Process' dramatically reduces burn-in time and significantly improves sonic performance.
CRYOGENIC TREATMENT
Many of the electrical parts in the AU8 are treated in Shunyata Research's own advanced computer controlled cryogenics lab.
Share
View full details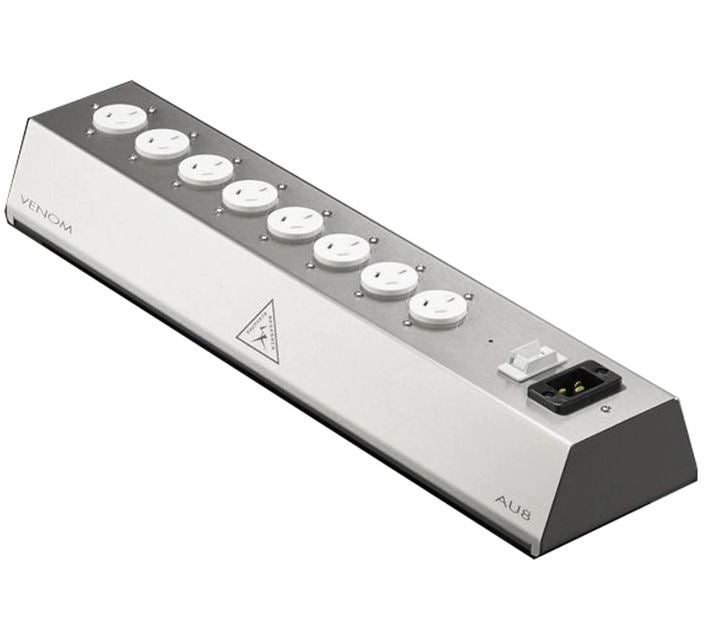 Fast & Free Shipping

Free Australia Post Shipping. All products ship from our Australia Warehouse

Australian Warranty

Purchase with confidence, this product is covered by a full Australian Warranty

Experienced Product Support

We have the solution! "as audiophiles who love playing with Hi-Fi gear as much as you do"

Showroom Demonstrations

Contact us to arrange a time to listen to your favourite products in our dedicated demonstration rooms.