Regular price
Sale price
$501.13
Unit price
per
Sale
Sold out
SILENT ANGEL BREMEN B1T NETWORK STREAMER TRANSPORT PLAYER
Australia Stock, Authorised Reseller, Audiophile Shop 
Designed for HD Audio Lovers
All the designs are an excellent alternative for PC or laptop as a music player for the quality audio experience. 
​
More and more streaming services publish Hi-Res format music and internet radios with real-time broadcasts. With Bremen B1's various applications, you could enjoy all the audio fun seamlessly yet instantly.
Optimized Main Board & Enriched Audio Ports
Fan-less main board design with EMI absorber embedded to eliminate mechanical & electronic noise, to process HD music data for you.
​
Equipped with AES/EBU, I2S, Coaxial for digital audio; RCA (L+R) and 6.35 mm headphone jack for analog audio; 100Mbps Ethernet efficiently works with NAS(Network Attached Storage) and other network streaming applications.
Silent Angel Bremen b1T – Specialized Main Board
Main Board Design
– High-permeability EMI absorber embedded to remove any possible electronic interference.
​
Audio Processing System
– Adopting CPU ( 2 Cores 1.2GHz ARM Cortex-A7); DRAM (Low-noise DDR4); ROM (High-speed 128MB Flash), sufficiently to process all the network streaming needs.
Flexible Audio Applications
Versatile Accessing Ports
– AES/EBU, I2S. Coaxial for external DAC; RCA (L+R) for active speakers; headphone jack for wired application.
– M-IO for peripheral access.
– Fast Ethernet interface for a network switch or NAS.
– Wireless connections support Wi-Fi 802.11 a/b/g/n 2.4GHz; Bluetooth 4.2.
Silent Angel Bremen b1T – Source Upgrade
Exclusive Audio Upgrade Combo
– Work with Bonn N8; Forester F1; Bastei; optimized network signal and powers signal, and DC connection, generating the ultimate Hi-Fi source quality to your system.
Connect, operate, play, all at your fingertips –
The ideal companion for Bremen B1t music streamer
VitOS Lite
Features
The compact size matches that of the F1 Forester LPS and Bonn N8 Switch
Deploy by either wired Ethernet or WiFi. Flexibly place it anywhere.
Connect to any DAC over  AES/EBU, I2S, Coaxial
Manage and play by mobile app VitOS Lite.
It supports Bluetooth 4.2. Conveniently play music from your smartphone or tablet.
Supported applications include Tidal Connect, Qobuz, Spotify Connect, Amazon Music, Deezer, Napster, Tune-in Radio, Sound Machine, and play music files from network shared storage via DLNA.
Elegant metal enclosure
2-core 1.2GHz ARM Cortex-A7 CPU
Advanced circuitry with high-quality components
Highly permeable EMI absorber to reduce electrical interference
Gold plated audio output ports (Coaxial & AES/EBU)
Digital output: AES/EBU, I2S, Coaxial for external DAC
WiFi 802.11 a/b/g/n 2.4GHz (client mode) for ease of deployment
Specifications
Available Colour
Black
Power Input
(DC) 5V/2A at max
Power Consumption
10W at max
Digital Outputs
AES/EBU port x 1
I2S port x 1
Coaxial port x 1
– Supports up to PCM 192KHz
M-IO
M-IO port x 1 for peripheral access
Ethernet
100Mbps RJ45 x 1
– works well with high-performance NAS(Network Attached Storage)
– connecting to the Gigabit LAN port of a router or audio switch
Wireless Connection
Wi-Fi 802.11 a/b/g/n 2.4GHz
Bluetooth 4.2.
LED Indicator
Mute LED x 1 (Red)
Power LED x 1 (Green)System Status LED x 1 (Amber)
– Fast blinking: The system is booting.
– Slow blinking: Connecting to WiFi, Bluetooth, or Ethernet.
– Static on: Successfully connected.

 


Playing and Bluetooth Status LED x 1 (Green)
– Static on: Playing music
– Slow blinking: Choosing to connect by Bluetooth, and it's connecting
– No light: Successfully connected

Temperature
Operating: 32 ~ 86 °F
Storage: -4 ~ 158 °F
Humidity
Operating: 10% ~ 90% RH (non-condensing)
Storage: 5% ~ 95% RH (non-condensing)
Dimensions
6.11(W) inch x 1.99(H) inch x 4.34(D) inch
155(W) mm x 50.4(H) mm x 110(D) mm
Weight
1.99 lbs / 0.9 kg
Share
View full details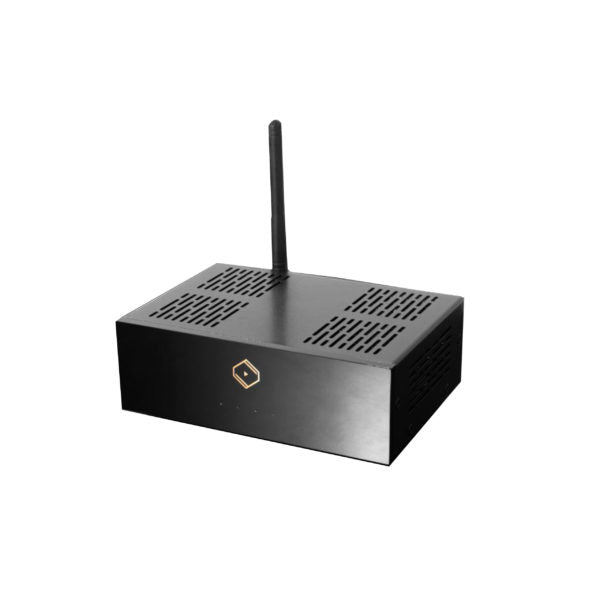 Fast & Free Shipping

Free Australia Post Shipping. All products ship from our Australia Warehouse

Australian Warranty

Purchase with confidence, this product is covered by a full Australian Warranty

Experienced Product Support

We have the solution! "as audiophiles who love playing with Hi-Fi gear as much as you do"

Showroom Demonstrations

Contact us to arrange a time to listen to your favourite products in our dedicated demonstration rooms.