Regular price
Sale price
$780.43
Unit price
per
Sale
Sold out
TOPPING D30 PRO + A30 PRO + Bonus XLR Cable Combo
Audiophile Store, Australia Stock, Authorised Resellers, Local Warranty, Full Support
Combo unit comes with the following:
1. Topping D30 PRO Balanced DAC
2. Topping A30 PRO Balanced Headphone Amp
3. High-Quality 4N Japanese Copper XLR Cables  (20cm or 1.0m) your choice of length, please add to notes at checkout
Model: D30 PRO
Features:
1. Preamplifier function: D30Pro has preamplifier function so you can control the output volume on the front panel and also at the remote control. Since it's noise is <0.9uVrms@SE out and <1. 1uVrms@BAL out, which is significantly lower than other similar products, it is very suitable for connecting to power amplifiers or monitor speakers. And this will also help you leave the budget of a preamplifier.

2. CPLD focusing on clock processing and digital signal optimization, restoring what the digital signal should be.

3. We use up to 8 independent LDOs to supply power to different loads, SO there is no longer interference between different loads.

4. Both RCA and XLR have reached the 1 20dB SINAD, So that RCA transmission can also have same excellent performance as XLR.

5.A30Pro will be the best partner for D30Pro: 2x6W@ 1 6ohm, 2x5.5W@32ohm,2x840mW @300ohm,so there is no headphone that A30Pro can't drive well. New specifically redesigned NFCA module provide THD+N<0 .00006% and <0.3uV noise.

Spec:

USB IN: PCM 44. 1 kHz-384kHz/16bit-32bit
             DSD DSD64-DSD256 (Native)、DSD64-DSD128 (Dop)

COAX/OPT IN: PCM 44. 1 kHz-192kHz/16bit-24bit
                        DSD DSD64(Dop)

D30 pro Decoding parameters (USB In@96kHz)

LINE OUT RCA:
THD+N@A-wt: <0.0001%@1kHz
THD@ No-wt 45kBw: <0.0004%@20-20kHz
SNR@A-wt: 127dB@1kHz
Dynamic range @A-wt: 127dB @1kHz
Frequency Response:20Hz-20kHz(+0.1dB)
                                  20Hz-40kHz(+0.3dB)
Output Voltage: 2Vrms@0dBFS
Noise @A-wt: < 0.9uVrms
Crosstalk: -116dB@1kHz
Output Impedance: 20Ω

LINE OUT XLR:
THD+N@A-wt: <0.00009% @1kHz
THD @No-wt 45kBw: <0.0004 % @20-20kHz
SNR@A-wt: 132dB@1kHz
Dynamic range @A-wt: 132dB@1kHz
Frequency Response:20Hz-20kHz(+0.1dB)
                                  20Hz-40kHz(+0.3dB)
Output Voltage: 4Vrms@0dBFS
Noise @A-wt: < 1.1uVrms
Crosstalk: -145dB@1kHz
Output Impedance: 40Ω

Contents:
D30 PRO*1
AC cable*1
Remote control*1
User manual*1
USB cable*1
Warranty card*1

Model: A30 PRO

Features:
APX555B limited our measurement again
The THD+N of A30Pro is no higher than 0.00006%,which means the A30Pro accurately restores 99. 9994% of the
original sound, what you get is what you input. Because noise of A30Pro is low enough, so APX555B limits the noise 
measurement of it, resulting in the need to amplify the noise of A30Pro by 100 times for indirect measurement.

4PIN XLR+4.4mm+6.35mm output
Since then, buying headphones does not have to consider whether the plug matches the headphone amplifier,
because the A30Pro already provides you all in a compact body, including 4-PIN-XLR,4.4mm,6.35mm.

SE + BAL input pass through
When shutting down, the input signal is directly output to RCA or TRS without amplification, 
which will be more suitable for active speakers/monitor speakers when the DAC has pre-amplifier functions. 
Even better is when used with D30Pro, the excellent noise performance of D30Pro is not wasted.

Specifications:
Dimension: 17.4cmx13.8cmx4.5cm
Weight: 870g
Power: 100-240VAC 50Hz/60Hz
Gain: L/M/H
Amplifier inputs: 1 xXLR (L+R) / 1 xRCA (L+R)
Headphone Amplifier outputs :
1 X 6.35mm headphone output jack 
1 X XLR headphone output jack 
1 X 4.4mm headphone output jack,
Pass through outputs: 1x6.35mm TRS(L+R)/1xRCA (L+R)
Power consumption: <9.0W

Contents list:
A30Pro*1
User manual*1
AC cable*1
Warranty card*1
6.35mm to 3.5mm adaptor*1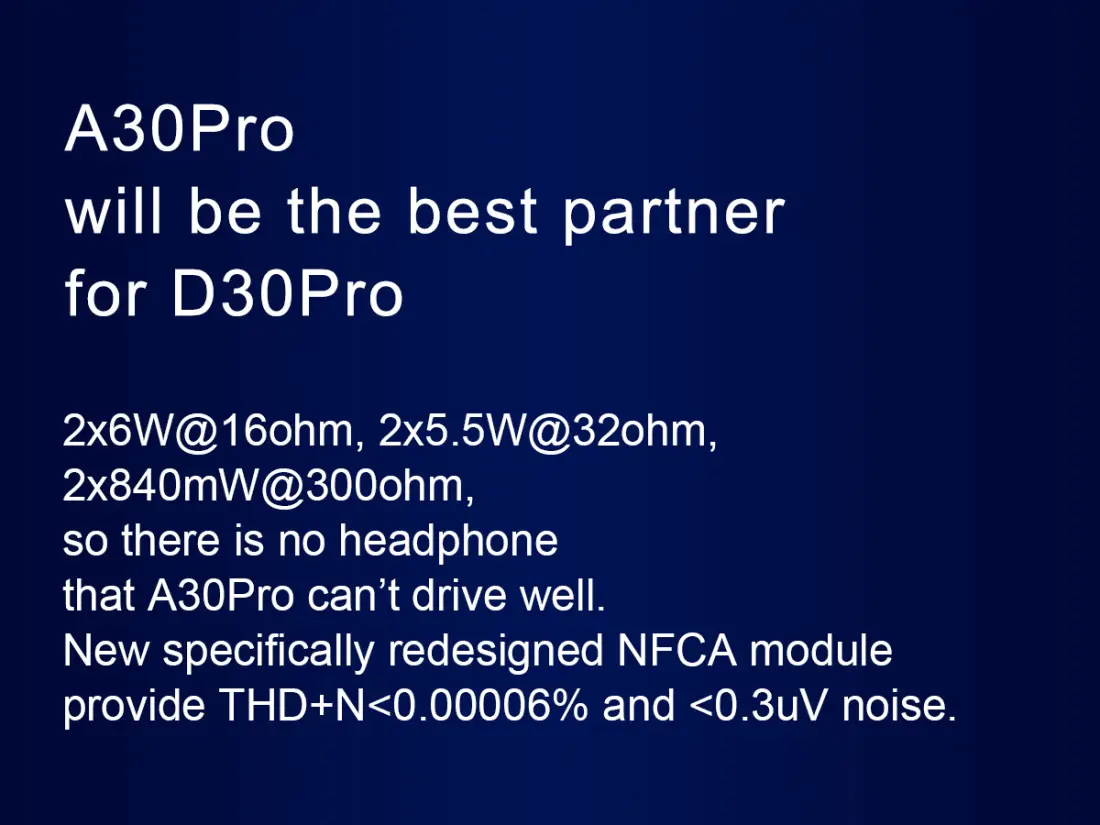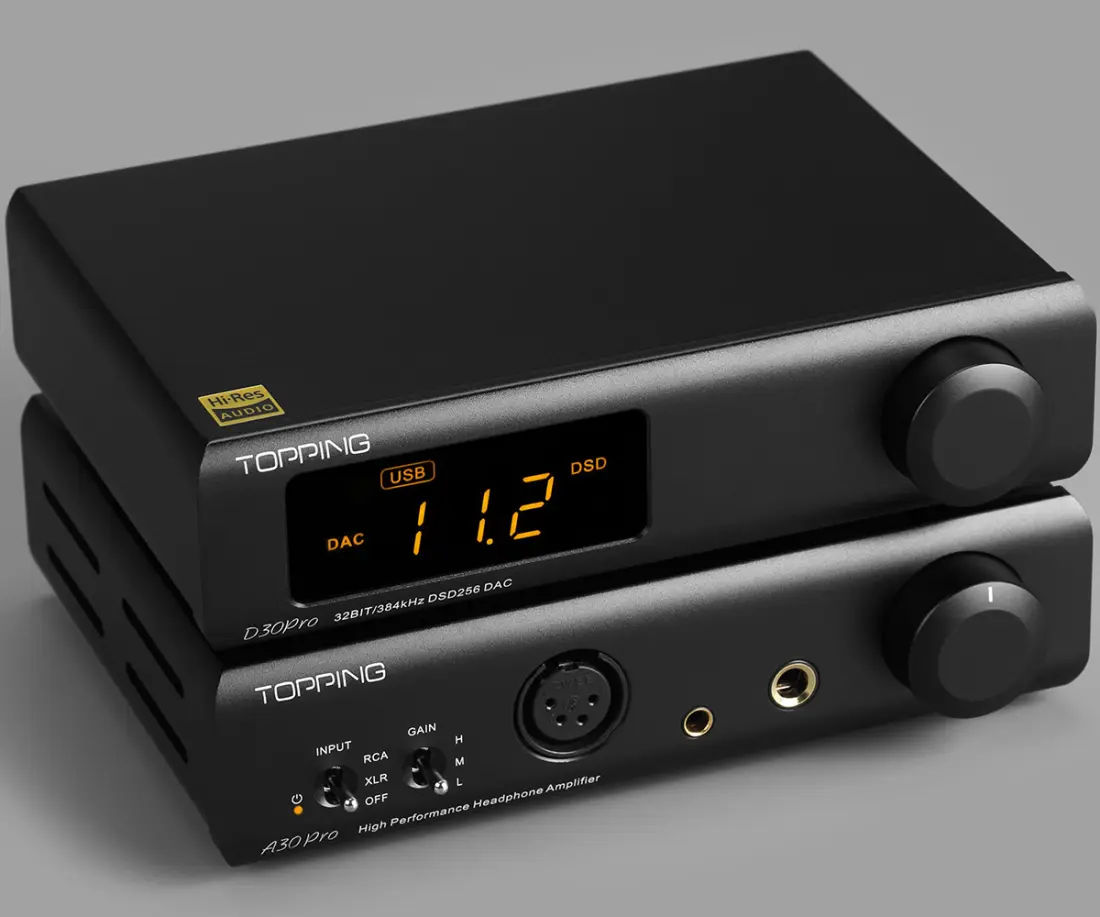 Share
View full details
Fast & Free Shipping

Free Australia Post Shipping. All products ship from our Australia Warehouse

Australian Warranty

Purchase with confidence, this product is covered by a full Australian Warranty

Experienced Product Support

We have the solution! "as audiophiles who love playing with Hi-Fi gear as much as you do"

Showroom Demonstrations

Contact us to arrange a time to listen to your favourite products in our dedicated demonstration rooms.