Regular price
Sale price
$195.48
Unit price
per
Sale
Sold out
Little Dot MK II MK 2 hifi headphone pre-amplifier 6J1+6N6 assembled tube amplifier
Australia Stock, Local Warranty, Authorised Distributor. Audiophile Store.
*Please ask about availablity of this product, occasionally there are manufacturer shortages
Product Description:
An SEPP (single-ended push pull) OTL circuit operating in Class-A, the Little Dot MK II greatly increases sound quality, dynamic range, output impedance, and harmonic distortion over the celebrated Little Dot II++.
The Little Dot MK II now also provides gain control of 3, 5, and 10 via internal DIP switches for fine-tuning so you can maximize synergy with almost any headphone you have, whether it be 32 ohms or 600!
The Little Dot MK II also gains the driver tube-rolling options from the rest of the MK-series with the ability to roll 6JI, WE403A/B, GE5654, M8100, CV4010, EF95, etc at its factory jumper setting, and with jumper pins shorted, EF92, CV131, and all equivalents and drop-in replacements!
Specification: 
SEPP (Singled-ended Push Pull) OTL in Class-A
Input: Gold-Plated Unbalanced Phono (RCA) Jacks
Output: 1/4" Gold-Plated Stereo Headphone out
Driver Tubes: 6JI
Power Tubes: 6N6
Frequency Response: 20HZ - 50KHz (-1dB)
THD+N: 0.1% (50mW into 300 ohms)
Suitable Headphone Impedance: 32 - 600 ohms
Input Impedance: 50K ohms
Pre-Amplifier Output Impedance: 600 ohms
Pre-Amplifier Gain: 3-10x (also controlled via gain switches)
Pre-Amplifier Voltage: 10V RMS
Share
View full details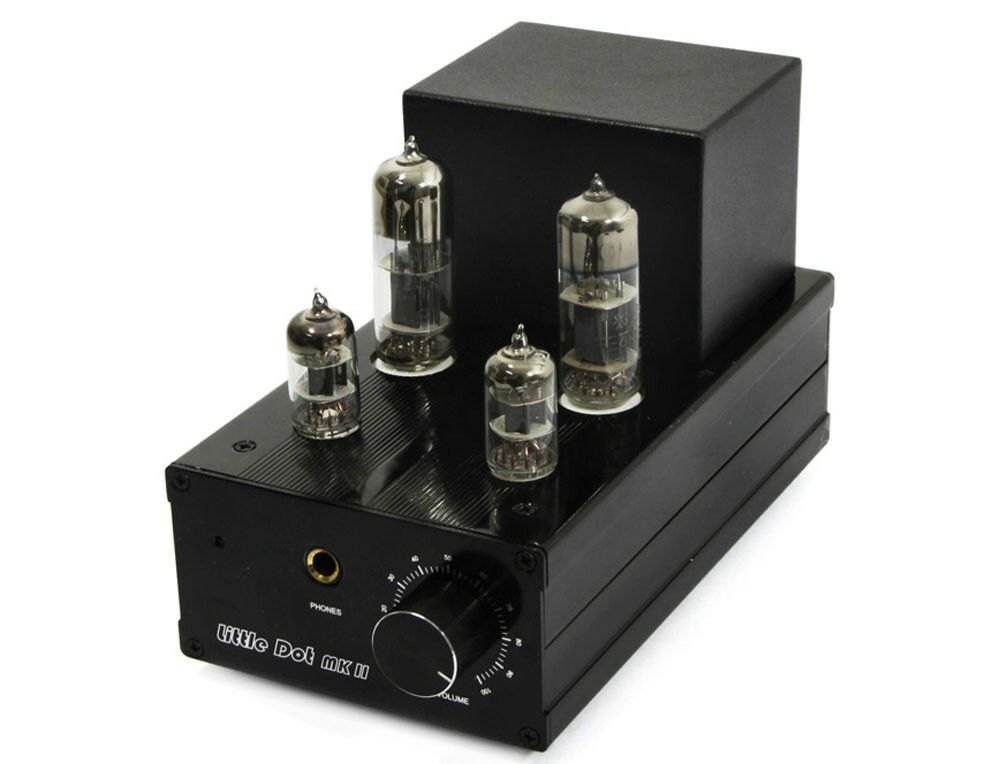 Fast & Free Shipping

Free Australia Post Shipping. All products ship from our Australia Warehouse

Australian Warranty

Purchase with confidence, this product is covered by a full Australian Warranty

Experienced Product Support

We have the solution! "as audiophiles who love playing with Hi-Fi gear as much as you do"

Showroom Demonstrations

Contact us to arrange a time to listen to your favourite products in our dedicated demonstration rooms.
Scammer. Took money and after one month, still hasn't posted product. Lodged complaint with paypal to try and get my money back.
Great entry level tube amp, although you may need to swap the tubes for the best possible sound. Thank you to audiophile store for being one of the only places in Australia to stock it.
The little dot 2 is my first experience with tubes and I'm impressed. I know this amp is entry level, and with stock tubes, there was nothing that stood out at all, but rolling in some Mullard
M8161 tubes, all of a sudden the sound went from inside my head on my HD650`s to a wider, taller, and closer sound stage just behind me.I was on stage just in front of the lead singer facing the audience. Wow !
Purchased the Little Dot mk2 after reading/watching many reviews.
Happy with my purchase of Australian stock with prompt delivery.
Straight up replaced driver tubes with nos Phillips Mini Watt 6AK5 now waiting for nos 6n6p power tubes.
Needed a power cable no Australian plug version included had planned to use audiophile quality anyway.
Running the Little Dot mk2 as a tube pre amp. Sound quality very happy thus far has added more layering and depth to the soundstage. Sounds natural music flows so great value product.
Thanks
Nick
Brisbane